Toby Siddique murder trial: Witness denies gang links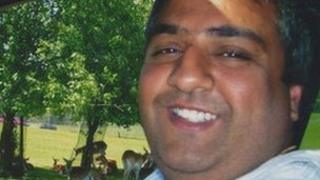 The flatmate of a man accused of shooting and killing a millionaire businessman has denied being a member of an eastern European crime gang.
Toby Siddique, 38, died in a flat in Glenrothes on 24 October 2010 allegedly shot on orders of his brother, Mohammed Azam Siddique, 42, also known as Mo.
The two men had fallen out over their business interests, the High Court in Edinburgh has heard.
Mo Siddique, Tencho Andonov and Deyan Nikolov deny the killing.
Mr Andonov, 28, and Mr Nikolov, 27, are both from Bulgaria.
The trio also deny attempting to murder security worker David Dalgleish, 44, on 24 October 2010 at the same address.
Contraband cigarettes
Flatmate Krasmir Peev, 24, a Bulgarian immigrant, said he worked as a pizza delivery worker in Kirkcaldy, Fife, and did not know anything about criminals from abroad who operate in Scotland.
Toby Siddique's defence advocate Derek Ogg QC asked Mr Peev if he had links to eastern European criminals.
Mr Peev lived in a property in Kirkcaldy with Mr Nikolov at the time of the murder of Mr Siddique last year.
He said he came to work in Scotland as a pizza delivery worker three years ago because he could not find work in his native country.
Mr Ogg said: "We might hear evidence that Toby Siddique had contacts with people who were smuggling contraband cigarettes and contraband drink. What can you tell us about that?"
Mr Peev said: "I don't know anything about that."
DVD drive
Mr Ogg also asked questions about why Mr Peev repeatedly cleared the memory of his lap top computer by reinstalling Windows software.
Mr Peev had earlier admitted to continually wiping his computer's memory by reinstalling Windows software.
This had the effect of entirely wiping the machine's memory.
Mr Ogg suggested that it was to eliminate information from the computer which would have shown exactly what Mr Peev was browsing on the internet.
But Mr Peev denied deliberately wiping the computer for that reason, saying he had problems with the computer's DVD drive.
The court earlier heard that Toby Siddique made some money from the contraband trade in cigarettes.
The court also heard that he had served time for fraud and carried a scar on his face as a result of a slashing.
Mo Siddique has lodged papers in court blaming another man for the death and Mr Andonov and Mr Nikolov say they have alibis for the time of the shooting.
The trial continues.