Jack Draws Anything finishes his charity challenge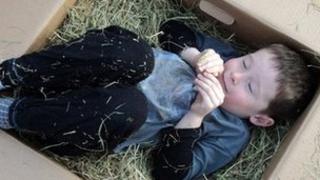 A six-year-old boy from East Lothian who became an internet sensation by drawing to raise money for charity has completed his marathon of pictures.
Jack Henderson from Prestonpans set up Jack Draws Anything, with the help of father Ed.
He received hundreds of commissions with donations going to the Royal Hospital for Sick Kids in Edinburgh.
His website said he was "hibernating" for the winter after completing 536 pictures over the past 231 days.
Jack began drawing pictures for friends and family because he wanted to raise money for the hospital his youngest brother Noah attends with breathing problems.
Final drawing
For a fortnight earlier this year his website accepted requests for him to draw things in exchange for donations.
The response was "overwhelming" and he has now raised more than £31,000 and last month a book of his story and pictures was published.
His parents said that while completing his marathon of drawings he used 314 pens, 162 crayons and 96 pencils on 2,144 sheets of paper.
On his website, Jack said: "I am really happy about getting to the end. I feel a little bit shy from all the pictures and the interviews. I hope you have all enjoyed my drawings, I have raised lots of money for the Sick Kids but if you still want to donate, I would be really happy.
"Just go to jackdrawsanything.com. Bye bye. Finished."
It is estimated Jack has spent a total of 268 hours drawing the requests.
Jack's Dad Ed said: "Jack has been amazing. Even when he was feeling unwell he kept going and got through his pictures.
"We are so proud of him for all he has done and how he so maturely handles himself in the grown-up situations he has found himself these last few months."
Jack's final drawing was a request from his dad for a rock band. Jack decided to do his favourite band - Queen, depicting them as rocks.
The website has had more than 400,000 visits from 163 countries, with six million views of the Facebook page and more than 6,000 fans.