Toby Siddique murder trial: 'Plan to beat' businessman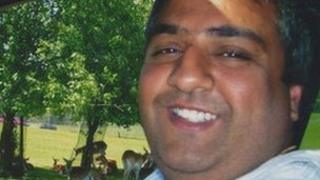 A delivery driver has told a murder trial of a plan to beat up a businessman, just days before he was shot dead in Fife.
Toby Siddique, 38, died in a flat in Glenrothes on 24 October 2010 allegedly shot on orders of his brother, Mohammed Azam Siddique, 42, also known as Mo.
The two men had fallen out over their business interests, the High Court in Edinburgh has heard.
Mo, and Tencho Andonov, 28, and Deyan Nikolov, 27, deny the killing.
Mr Andonov and Mr Nikolov are both from Bulgaria.
Bulgarian driver Krasmir Peev told the jury about phone calls he was asked to make by Mr Nikolov, when they shared a flat in Kirkcaldy in October last year.
'Beat up'
Mr Peev, 24, said that after her returned from a month in Bulgaria on 12 October last year, he was asked by Mr Nikolov to call Toby Siddique to ask about flats for rent.
Mr Peev said Mr Nikolov, a student at Adam Smith College in Kirkcaldy, told him to make an arrangement to see a flat.
Advocate depute John Scullion, prosecuting, asked if Mr Nikolov had said why he wanted his friend to do this.
"Yes. He said 'I am going to beat him up'" he replied.
"Who was he going to beat up?" asked Mr Scullion. "Toby," said Mr Peev.
At the time of the conversation, Mo Siddique was in the same room in the Kirkcaldy flat, said Mr Peev.
"Basically Mo was telling Nick what to tell me," he added.
Mr Peev said he had been asked to make the mobile phone calls because Mr Nikolov said Toby Siddique would probably know his voice.
Pay respects
The jury was also shown text messages about viewing a flat found in Toby Siddique's mobile after his death.
Mr Peev said he did not send any such messages. They were signed with a false name "Yarek".
Mr Peev also told the trial that on the weekend Toby Siddique died Mr Nikolov, who usually handed over the rent, asked Mr Peev to pay the rent instead, saying: "Probably he would be arrested."
The trial also heard the day after Toby Siddique's death, the two flatmates visited Mo Siddique to pay their respects, but only Mr Nikolov spoke to Mo while Mr Peev stayed in the car.
Mr Siddique, Mr Andonov and Mr Nikolov deny conspiracy to murder and murdering Toby Siddique on 24 October last year at a flat in Forres Drive, Glenrothes.
Mo Siddique has lodged papers in court blaming another man and Mr Andonov and Mr Nikolov say they have alibis for the time of the shooting.
The trial continues.