Firework thrown from car explodes in Fife woman's face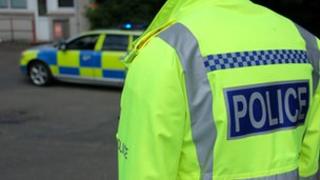 A Fife grandmother has told how her vision is still blurred two days after a firework, thrown into a bus shelter from a car, exploded in her face.
Catherine Forsyth, 66, said the pain in her left eye was "excruciating" following the attack in Fife, on Wednesday at 18:40.
Mrs Forsyth was waiting for a bus on Lochgelly Road, Lumphinnans, when the banger was thrown at her.
She was treated at Queen Margaret Hospital in Dunfermline.
The vehicle, which approached from Lochgelly, continued on to Cowdenbeath.
Mrs Forsyth, from Lumphinnans, told the BBC Scotland news website: "I was waiting at the bus stop minding my own business when I saw this light being thrown towards me, it skiffed my head and landed behind me.
"I looked round at it and jumped out of the shelter but that's when it exploded and shards hit my eye.
"It made such a boom that it shook the windows of the shelter and gave me such a fright.
"Then my eye started to swell and I couldn't see out of it, it was excruciating pain."
'Hand themselves in'
The grandmother-of-five added: "My vision is still blurred now and I've to return to the hospital for more treatment, as my eye is covered in scratches, but thankfully it didn't blind me.
"I feel very angry that someone would do this as it could have been a child they hit.
"If they had any decency they would hand themselves into the police."
Mrs Forsyth, who has four children, said the attack meant she had to cancel a visit to take her disabled son, 44, out for the day.
PC Stewart Kinnell, of Fife Constabulary, said "A 66-year-old pensioner, innocently waiting in a bus shelter, was injured on Wednesday night through the thoughtless actions of a passenger in a vehicle, who, while passing, threw a banger firework into the shelter.
"This was a highly irresponsible thing to do and it is fortunate that the woman did not lose the sight in her eye."
Police appealed for witnesses.