Toby Siddique murder trial: Neighbours 'heard bangs'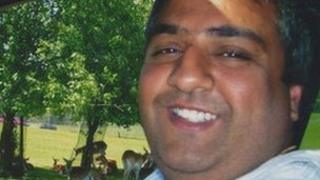 A couple watching television were disturbed by loud bangs on the day a man was shot, a murder trial has heard.
Thomas Boyne, 33, and girlfriend Megan Dodds said they thought the sounds were fireworks because it was late October.
Mohammed Nadeem Siddique, 38, who was known as Toby, died on 24 October 2010 in a flat in Glenrothes, Fife.
His brother, Mohammed Azam Siddique, 42, known as Mo, along with Bulgarians Tencho Andonov, 28, and Deyan Nikolov, 27, deny the killing.
Toby Siddique was shot dead on the evening in October 2010, allegedly on the orders of his elder brother, Mo.
Mr Boyne and Ms Dodds had gone to her father's home in Glenrothes, Fife, to cook a Sunday evening meal for him.
Afterwards they sat down to watch television.
The trial heard that they heard noises coming from the flat below.
Ms Dodds said it sounded like two people fighting.
She said: "Like banging into tables and smashing things. Really rough fighting."
Mr Boyne told police afterwards it sounded like "a brawl".
Pulling trigger
They muted the television set to listen to what was happening but the noise had quietened.
"Then I heard like a big bang. I didn't know what it was at the time," said Ms Dodds.
Mr Boyne said: "We thought that it was fireworks or a car had back-fired.
"We kind of looked at each other and wondered what it was but there is a lot of bother in that block of flats Megan's father stays in so we didn't go out and investigate it. We left it at that."
A few minutes later they drove away from the flat in Forres Drive and went home, only learning about the shooting incident later.
Mo Siddique has lodged papers in court blaming security man David Dalgleish, 44, for his brother's death.
Mr Andonov and Mr Nikolov have said they have alibis. The three also deny attempting to murder Mr Dalgleish.
The trial continues.