Police puppy bought from official's funeral donations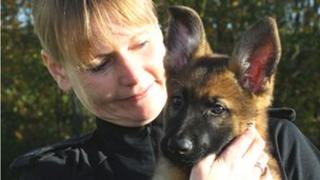 A 10-week-old German shepherd puppy has become a police force's latest recruit after she was bought with money raised from an official's funeral.
Allan Green, 44, who was Fife Constabulary's freedom of information officer, died after falling down stairs while carrying his bike in July.
The Edinburgh man's family asked for donations for a police dog, rather than flowers, at his funeral.
The puppy has been named Kate after Mr Green's favourite actress Kate Winslet.
The young dog was bought from the Metropolitan Police for £600 with the donations.
Kate is doing her basic training with handler PC Lynn Law to become a full-time member of the dog section.
Office window
PC Law said: "Kate is a very lively and intelligent puppy who I am sure will make a great working police dog.
"I have had her for three weeks now and our intention is to allow her to enjoy her puppyhood but start with initial play training when she is 12 weeks old.
"We will continue that until she is 15 months old, when an intensive three-month training period will begin.
"When that is completed she will become a valuable addition to the service and a fitting and lasting memorial to Allan's memory."
Mr Green had worked for the force for seven years when he passed away.
His partner Maria Daly said: "Allan used to enjoy seeing the police dogs being trained outside of his office window, and was full of admiration for the work they did.
"We decided that rather than have flowers at his funeral we would ask for donations instead, and felt that buying a police puppy in his honour was an appropriate way to spend the money raised.
"Allan liked watching films and was particularly taken by the actress Kate Winslet, so we are delighted that the puppy has been named after her."