Hearts football club pays off £500,000 tax bill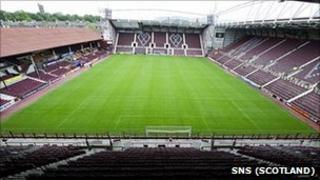 Heart of Midlothian Football Club has paid about £500,000 to ward off a winding-up order, BBC Scotland has learned.
A petition relating to the Edinburgh-based club's finances is set to be heard at the Court of Session.
The tax bill included VAT and PAYE which the club were due to pay to HM Revenue and Customs.
An HMRC official said Thursday's court action was to have a winding-up order dismissed.
The club had similar winding up orders served against it in 2009 and November 2010 over unpaid tax to HMRC. Both were settled after the club paid the bills.
The players' union officially complained to the SPL over unpaid wages to players on Tuesday.
A league source told BBC Scotland that, if a formal complaint is received from a player, they could divert money due to the club directly to the squad.
The SPL makes regular payments to top-flight clubs, distributing money from their commercial ventures.
Wages were due on 16 October, but an expected late payment has failed to materialise for a second time.
The Scottish players' union has written to Hearts outlining their concerns but has yet to receive a reply.
Some non-playing staff and youth players are not affected by the problem, for which the club have given no explanation.
Last month, Hearts said in a statement that players would be paid "in the near future" and that those involved had been spoken to.
If complaints are taken to Fifa, the world governing body, then players could apply to be released from their contracts, allowing them to seek employment elsewhere.
The Edinburgh club are currently not co-operating with the media over coverage of disciplinary action by the Scottish Football Association against their manager Paulo Sergio.