More radioactive particles found on Dalgety Bay beach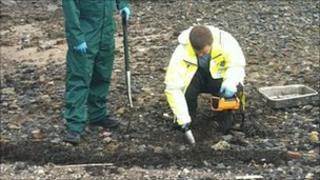 A further 40 radioactive particles have been discovered by scientists monitoring Dalgety Bay beach in Fife.
Sepa has been surveying a small area of the foreshore after a particle 10 times more radioactive than any other was discovered there earlier this month.
The radioactivity is thought to come from dials of World War Two aircraft that were scrapped there.
Over 200 particles have been found in this most recent monitoring. Warning signs have been erected.
Radioactive radium
Sepa briefed officials from the MoD and the Scottish government last week.
Dalgety Bay was the site of a World War II airfield, where many aircraft were dismantled.
The dials in the planes were coated with radioactive radium so they could be read at night.
It is thought they were incinerated along with other waste, then later tipped on the land and used to help reclaim some of the coastline.
Numerous surveys have been carried out on the beach since radiation was first discovered in 1990.