Call for runners for special light event in Edinburgh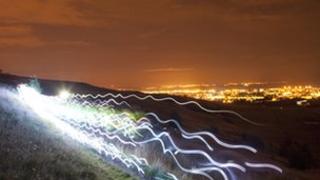 The search has been launched for thousands of Scottish runners who will help light up Arthur's Seat in Edinburgh.
Speed of Light is one of four projects commissioned in Scotland to celebrate the 2012 Olympic Games.
Every night for three weeks next August, hundreds of runners in special lightsuits will run across the extinct volcano to create a light display.
The routes the runners will follow will be specially choreographed.
The company behind the project, Glasgow based public arts charity NVA, have now launched their search for participants.
Visual statement
Each runner must have the stamina to complete a 3-5km (2-3mls) hill run.
There is also a £10 registration fee.
In addition to runners, audience members, 800 per night, will be integral to the event.
They will generate their own light through bespoke walking staffs as they climb to the summit.
Angus Farquhar, NVA creative director NVA said: "Speed of Light is an exciting and equally challenging new work for NVA which will see us collaborating with thousands of runners and new cultural and sporting partnerships across the country.
"It is a runner's dream to be part of making such an extraordinary collective visual statement.
"Our ambitions with Speed of Light are many and varied, to encourage interaction and participation on a massive scale, to investigate new technologies using light and energy and to challenge peoples perceptions of themselves and the landscape of Scotland."