Events mark 80 years since Bowhill mining disaster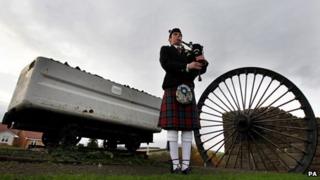 Events have been taking place over the weekend to mark the 80th anniversary of a Scottish mining disaster.
Ten men lost their lives after an explosion at Bowhill Collieries, near Cardenden in Fife, in October 1931.
A ceremony was held at Bowhill Community Garden, followed by a service at the monument in Bowhill Cemetery, where wreaths were laid in memory of the miners.
The disaster was one of the worst in the region's long mining history.
The miners died of carbon monoxide poisoning after the explosion at pit number two on Saturday 31 October 1931.
Heroic rescue attempts were made by the members of other repair gangs at work elsewhere in the colliery, and by ambulance and rescue brigades from neighbouring collieries who volunteered their services, but their efforts were impeded by the presence of noxious gases.
Anxious relatives gathered above ground as news of the disaster spread through the village.
Newspaper reports from the time talk about a "deadly white mist" and describe the toll of the bell in the engine room and the sound of sobs as the men's bodies were brought to the surface in pairs, almost 24 hours after the explosion occurred.
The pit belonged to the Fife Coal Company.