Edinburgh bin collection privatisation plan 'in doubt'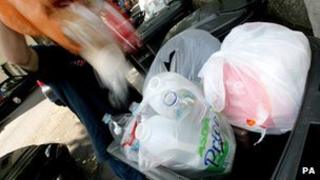 Plans to privatise bin collections and street cleaning in Edinburgh are in disarray after the SNP said they would vote against the scheme.
Councillors in the city are due to decide on Thursday on a controversial plan to hand environmental services over to a private company.
The move could affect 800 staff and supporters claim it could save £70m over seven years.
The SNP runs the city council in coalition with the Liberal Democrats.
Without SNP support it is unlikely enough councillors will back the move.
One possibility is that a decision will simply be deferred when the council considers its options on Thursday.
Edinburgh is the first Scottish council to consider an advanced plan to privatise environmental services.
Council officers recommended that private company, Enterprise Managed Services, run the operation.
It would go into partnership with the authority to provide services including street cleaning and park maintenance, as well as bin collections.
A report to councillors states that there is a compelling business case for the change.
The authority will debate the privatisation plan on Thursday along with an alternative option of reforming the council's existing operation.