Nadeem Siddique murder trial witness saw shooting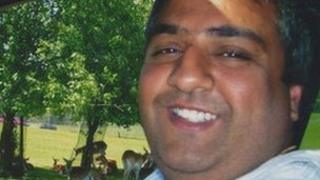 A witness in a murder trial has told how he saw a man shot dead at point blank range, before the gun was turned on him.
David Dalgleish,44, told the High Court in Edinburgh he was then shot in the back of the head and played dead to survive.
Mohammed Nadeem Siddique, 38, who was known as Toby, died on 24 October 2010.
His brother, Mohammed Azam Siddique, known as Mo, is one of three men who deny the killing in Glenrothes, Fife.
Mr Dalgleish said he was asked to invite Toby Siddique to his flat in Forres Drive to buy cheap cigarettes, and it was Mo Siddique who told him to set up the meeting.
A man he identified in court as Tencho Andonov turned up first.
Mr Dalgleish thought it surprising that Andonov kept his jacket on, even though he was red in the face, but there were no problems or arguments as the two men talked for about 20 minutes about a cigarette deal.
Point blank
Mr Dalgleish said he chatted to a man who had arrived with Toby Siddique, before the other man left to sit in the victim's car.
Andonov then disappeared briefly, only to reappear with his arm outstretched and holding a gun towards Toby Siddique.
"I would say it was very close, point blank," said Mr Dalgleish.
He told the trial: "The gun had a silencer so it was a kind of ping noise I heard."
The gunman then turned his attention to Mr Dalgleish - pointing the pistol at his chest.
At least one hand was gloved. "It was like a latex, blue glove like a hospital would have - the throw-away type," Mr Dalgleish said.
"I think by this time I realised this is a nippy situation or I am coming to terms a bit more with what I am seeing."
He challenged the gunman and began to struggle with him.
Mr Dalgleish told advocate depute John Scullion, prosecuting, that he was "hazy" about the details and could not recollect hearing the noise of the gun again.
"I felt something at the back of my head, like a sort of crack or something."
The security man fell to the floor and lay there feeling dazed, the trial heard.
"I remember thinking if I have been shot I will just lie here and pretend to be dead," he said.
"I will lie here and stop breathing, or at least slow down my breathing."
Property business
He told the trial he was not unconscious and not sure how long he lay there.
"When I first got up I saw a pool of blood on the floor beside where I was."
Mr Dalgleish said he saw Toby Siddique lying half in and half out of the bedroom of the flat.
He then went to hospital.
Mo Siddique, 42, denies arranging his brother's murder, along with Bulgarians Andonov and Deyan Nikolov, 27. They also deny attempting to murder Mr Dalgleish on 24 October last year.
The trial has heard that Mr Dalgleish used to work for Toby Siddique, then took up a job with Mo Siddique's Defence 4 Security firm.
At the time of the alleged murder the two brothers were squabbling about a property business they owned.
The trial continues.