MoD briefed on radioactivity at Dalgety Bay beach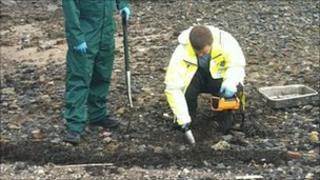 The MoD has been briefed by environmental agency officers over hundreds of radioactive particles were found at a Fife beach.
Sepa has been monitoring Dalgety Bay beach where highly contaminated metal was removed two weeks ago.
The lump was 10-times more radioactive than material found at the site before. Since then more than 200 radioactive particles have been found at the beach.
The material dates back to a time when aircraft were scrapped at the bay.
Radium from wartime aircraft is thought to have been in landfill, which was used when the foreshore was reclaimed.
Sepa met with officials from the MoD and the Scottish government on Monday.
Statutory powers
A Sepa spokeswoman said: "Sepa presented the results of its most recent round of monitoring and particle retrieval work at the meeting.
"Further meetings with other partner organisations will also take place this week, with a meeting of the Dalgety Bay Forum planned for 22 November.
"Due to the unexpectedly high number of particle finds and their associated activity, Sepa will be concentrating this week on collating the details of the sources recovered to date and therefore we anticipate that further monitoring of the demarcated area at Dalgety Bay will recommence next week."
An MoD spokeswoman said: "We support Sepa's monitoring work and will assess the requirement for further works once Sepa completes its evaluation and publishes its findings.
"Until that time, Sepa has the necessary statutory powers to address any significant risks, should they emerge.
"The MoD will continue to support Sepa in disposing of any recovered items, whilst seeking a longer-term strategy for handling radioactive contamination on the foreshore."
Warning signs have been put in place and the beach cordoned off.
Dalgety Bay was the site of a World War II airfield, where many aircraft were dismantled.
The dials in the planes were coated with radioactive radium so they could be read at night.
It is thought they were incinerated along with other waste, then later tipped on the land and used to help reclaim some of the coastline.
Numerous surveys have been carried out on the beach since radiation was first discovered in 1990.