Evidence starts in Nadeem Siddique brother murder trial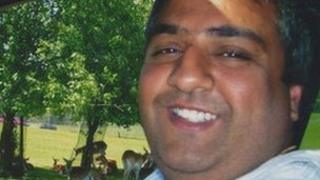 A murder trial has been hearing details of how a Fife businessman was shot and killed at a flat in Glenrothes last October.
Mohammed Nadeem Siddique, 38, who was known as Toby, died exactly a year ago.
His brother, Mohammed Azam Siddique, known as Mo, is one of three men facing trial in Edinburgh accused of killing him. They deny the charges.
A former employee of Toby Siddique has told the court he survived the shooting then found he ex-boss had died.
David Dalgleish told the High Court in Edinburgh that he found himself "piggy in the middle" as the two brothers squabbled over Moncreiff Properties, a company they both owned.
Mo Siddique, 42, along with Bulgarians Tencho Andonov, 28, and Deyan Nikolov, 26, denies murder and conspiracy to murder.
The three also deny attempting to murder David Dalgleish.
Cigarette deal
The indictment alleges that in August and September of 2009 Mo Siddique offered two men £1,000 to murder his brother.
A second charge alleges that in October last year at various addresses in Fife and West Lothian the three accused planned the alleged shootings.
Toby Siddique, it is claimed, was to be lured to a flat in Forres Drive, Glenrothes, thinking he was going to a meeting about the sale of contraband cigarettes and drink.
Mr Andonov allegedly went there with a loaded firearm.
Giving evidence Mr Dalgleish said he used to work for Toby Siddique but had argued with him.
Mr Dalgleish then started working for Mo Siddique, who ran Kirkcaldy-based Defence 4 Security.
The court heard that when Toby Siddique and Mr Dalgleish were back on talking terms Mo Siddique made a suggestion.
"'You can go and work for him and work for me.' It was like a mole insider scenario, I suppose," Mr Dalgleish told the court.
Mr Dalgleish said he was asked to talk to Toby Siddique about a deal involving cheap cigarettes.
He said Mo Siddique was "sort of vague" about the details but it involved "a Polish guy".
Mr Dalgleish said: "I was to say I knew him and had bought cigarettes off him before."
Advocate depute John Scullion, prosecuting, asked Mr Dalgleish why he had told a lie. "My boss said to do it," he replied.
Special defences
He said the meeting was to take place in his flat on 17 October. But, the court heard, it was a week later when Mr Dalgleish witnessed the death of Toby Siddique.
"I didn't know he was dead at first," said Mr Dalgleish.
In court today, he identified bouncer Mr Andonov as the gunman.
He told the trial that Mr Andonov was very close when he pointed a gun at Toby Siddique's chest.
Mr Dalgleish continued: "I was also shot. There was a struggle and through that struggle I ended up getting shot in the head."
Mr Andonov and Mr Nikolov face a further charge of attempting to defeat the ends of justice by trying to destroy evidence, which they deny.
Andonov is also said to have arranged a flight to Bulgaria.
Mo Siddique and Mr Andonov have both lodged special defences incriminating Mr Dalgleish for the alleged murder.
Mr Andonov further claims that at the time of the shooting he was in a parked car in Glenrothes.
Mr Nikolov's alibi claims he was at home in Kirkcaldy, Fife.
The trial continues.