Seven arrested with fake visas in Edinburgh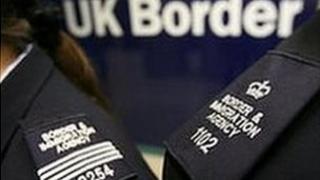 Seven people have been arrested in Edinburgh for having fake visas.
A further three people were also arrested for other immigration offences. The 10 people were from India and Pakistan.
The visa offenders were caught because they were clients of a jailed legal advisor in London.
Harpreet Dhall was jailed for six years at Harrow Crown Court in March for helping submit the applications by creating false documents for clients.
The three Indian women, six Indian men and one Pakistani man are all are being held in detention with the exception of an Indian man and woman who are already due to leave the country.
Immigration offenders
In some cases, Dhall would also arrange for regular payments to be made into bank accounts to make it look like his clients had regular salaries.
Adam Scarcliffe, assistant director of the UK Border Agency in Scotland, said: "The UK Border Agency will not allow those who seek to gain entry to the UK by deceit to benefit from this.
"Our officers work together to ensure that we identify and deal with immigration offenders, no matter which part of the UK they are in.
"This successful operation shows how seriously we take this kind of crime, whether it's those who mastermind the attempted fraud or those who try to benefit from it by living and working in the UK based on lies."