Cat chased by dog off quarry cliff in Fife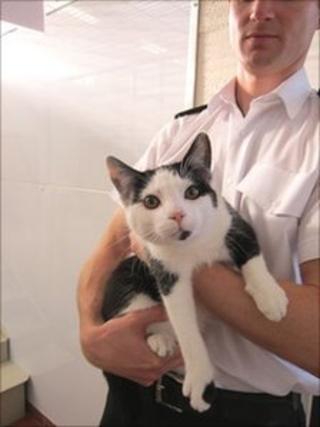 A cat is recovering after falling off a cliff into a quarry in Fife while it was being chased by a dog.
The young black and white male cat was seen being chased by a lurcher-type dog at Prestonhill Quarry, Inverkeithing, on Sunday morning.
The cat, named Cliff by Scottish SPCA staff, had no injuries as he landed in water in the quarry.
Anyone who thinks they might be Cliff's owner is being urged to contact the Scottish SPCA.
One of two men, who were scuba diving in the quarry water, said he saw the cat being chased off the cliff.
He said the water was "very deep" and he tried to hold on to Cliff to help him out but the cat struggled and managed to get out himself.
Nicola Liddell, of the Scottish SPCA, said: "The man who reported the incident said he saw the dog chasing the cat up to the quarry where he ran straight into a fence before falling over the edge and landing into water below.
"When I picked him up he was really frightened and a bit disorientated, but luckily he escaped unscathed with no injuries.
"Even after his terrifying experience he was quite happy to let me carry him back to my van wrapped up in a towel. He is such a friendly wee soul."
She added: "Cliff is now safe and well and being cared for at our Edinburgh and Lothians Centre, but someone will be missing him."
The cat was wearing a distinguishing collar when found, but was not micro-chipped.