More radioactive particles found at Dalgety Bay beach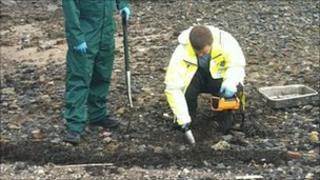 More than 80 radioactive particles have been found since an environmental watchdog removed highly radioactive material from a Fife beach.
Sepa had continued monitoring Dalgety Bay beach after a lump of contaminated metal was removed on Wednesday.
The latest particles are not as radioactive as the lump, which was 10 times more radioactive than material found at the site before.
The material dates back to a time when aircraft were scrapped at the bay.
Radium from wartime aircraft is thought to have been in landfill, which was used when the foreshore was reclaimed.
Warning signs
Seventeen particles were uncovered on Friday, 33 on Saturday and a further 31 on Sunday.
The total number of radioactive particles that have been recovered since the monitoring program began on 12 September is about 200.
The material has been found during work to trace the radioactive source, which is due to be completed over the next two weeks.
The MoD said it would look into the need for remedial work once a report on the area had been published.
Dr James Gemmill, radioactive substances manager for Sepa, said: "Over the next few days, we will be undertaking analysis and a review of the sources recovered to date, which will provide the basis of further recovery work at Dalgety Bay.
"We expect to return to Dalgety Bay on Wednesday to continue the monitoring and recovery work.
"The number of finds is higher than we anticipated, and therefore this work is progressing more slowly than we expected.
"Each find is being returned to the lab for further assessment."
Radioactive radium
Warning signs have been put in place and the beach cordoned off.
Dalgety Bay was the site of a World War II airfield, where many aircraft were dismantled.
The dials in the planes were coated with radioactive radium so they could be read at night.
It is thought they were incinerated along with other waste, then later tipped on the land and used to help reclaim some of the coastline.
Numerous surveys have been carried out on the beach since radiation was first discovered in 1990.
Sepa is meeting with the Scottish government and the MoD on 24 October, with a meeting of the Dalgety Bay Forum taking place on 22 November.