Raeburn House Hotel goes into administration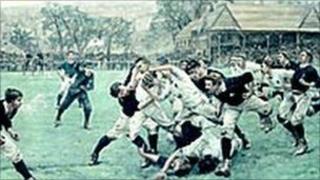 An Edinburgh hotel beside Scotland's oldest rugby club has gone into administration.
The Raeburn House Hotel, which was built in 1832, has appointed Blair Nimmo and Tony Friar of KPMG as joint administrators.
Owners had planned with Edinburgh Academicals Rugby Club to lease extra ground to develop the hotel and build a new sports pavilion and club house.
However, these plans will now not go ahead.
The B-Listed building at 112 Raeburn Place in Stockbridge was the last remaining asset of the Festival Group.
The two storey detached stone villa is in 0.25 acres of land.
Current climate
Blair Nimmo, head of restructuring for KPMG in Scotland, said: "The Raeburn ceased trading approximately six years ago and since then has been exploring opportunities to reinvent itself.
"Unfortunately the current climate limits developers undertaking schemes similar to those envisaged by the Raeburn and Edinburgh Academicals Rugby Club.
"The Raeburn is located in a much sought after location in the Stockbridge area of Edinburgh which we are hopeful will attract prospective purchasers."
The Edinburgh Academicals Rugby Club, formed in 1857, and is the second oldest rugby football club in the world.
The club's ground at Raeburn Place, staged the international match between Scotland and England in 1871. It also hosted the first Calcutta Cup game.