UK's first wind-powered electric van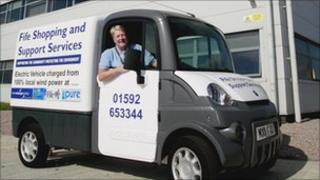 The UK's first fully wind-powered electric van has been unveiled in Fife.
The electric van will save £1,500 a year, and more than 1.8 tonnes of carbon dioxide emissions.
The van, owned by Fife Shopping and Support Services (FS&SS), delivers groceries and pensions to the region's elderly.
The van is powered from a charging point at Methil's Hydrogen Office in Fife where a 750kW wind turbine feeds a hydrogen-producing electrolysis plant.
Not windy
The hydrogen is stored in a large tank on site and can be fed back through a fuel cell to provide power for the Hydrogen Office for up to two weeks without any wind.
It means the electric van can be charged directly from 100% wind power, even when it is not windy.
Energy Minister Fergus Ewing said: "The Hydrogen Office and FS&SS are playing a vital role in demonstrating the link between Scotland's renewable energy resources and the role that fuel cells and energy storage can play in low carbon Scotland.
"We are committed to achieving the almost complete decarbonisation of road transportation by 2050, along with a mature market for low carbon cars, resulting in lower emissions by 2020.
"We therefore welcome initiatives such as this just as we are pressing ahead with similar schemes to enable us to achieve our world leading targets."