Blooming town title for Glenrothes in Fife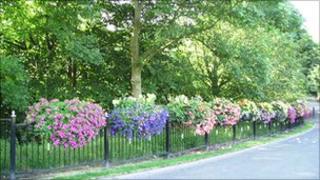 Glenrothes has won gold in the large town category in the 2011 RHS Britain in Bloom competition.
Since winning the Silver Gilt in 2009, Take a Pride in Glenrothes has been adding to its floral arrangements in a bid to win Britain in Bloom.
It follows a blow to the town's chances in the competition in 2009 when thieves took 700 plants from a floral display.
Glenrothes was named the most dismal place in Scotland in the 2009 Carbuncles Awards.
Margaret Reilly, chairwoman of Take a Pride in Glenrothes said: "We are extremely proud of all the community groups, representatives both young and old, who've had a major part to play in Glenrothes being awarded Gold and Best in Group. It is absolutely wonderful."
'Concrete jungle'
Fiona Grant, chairwoman of Glenrothes Area Committee said: "Every year we have seen more and more communities become involved in the campaign and this has grown into a very strong sense of pride for the town.
"Participating in Britain in Bloom has seen Glenrothes leave behind its 'concrete jungle' image to become best kept large town in the UK."
"A huge thank you to all our community representatives and groups who work tirelessly in their areas. It's also important to mention the support from our local businesses, through their continued contributions we have all enjoyed the beautiful roundabouts, flowerbeds and hanging baskets."
One of the Royal Horticultural Society judges said: "Glenrothes embraces all that is good about the bloom ethos, from nurturing its environment and heritage to ensure the policies for future care and development are planned and implemented.
"In a very high quality large town category, commitment to quality throughout this town, coupled with the enthusiastic involvement and support of the whole community, ensured Glenrothes' success in winning the category for 2011. Congratulations to all concerned."