Football fan arrests in Edinburgh and Musselburgh raids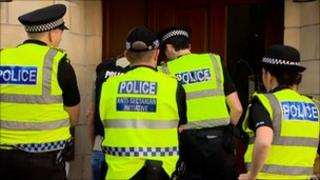 Eleven football fans have been arrested during dawn raids in Edinburgh and the Lothians, police have confirmed.
Police officers went to 13 homes in Edinburgh and Musselburgh after securing warrants for disorder at the Hibs V Sunderland match on 6 August.
The men have been charged with breach of the peace aggravated by religious prejudice.
It follows eight arrests for breach of the peace and assault on the day of the Edinburgh match.
Lothian and Borders Police were working with the Football Focus Unit.
A Lothian and Borders Police spokeswoman said the raids had been "very successful".
Offensive chanting
Supt Donnie MacKinnon said: "This force will continue to fully investigate complaints regarding any anti-social and disorder, and particularly any hate crime whether associated to a sporting event or not.
"True fans attend fixtures to show support for the team they follow.
"There is a small minority who attend for other reasons.
"We will not let them spoil the enjoyment of the genuine fans. Equally we will not let them disrupt other members of the public who may be going about their business elsewhere in the city on a day of a match."
The police operation comes just four days before Hearts play host to Celtic at Tynecastle.
Supt MacKinnon added: "We are reminding both sets of fans that unacceptable conduct will not be tolerated and the police and the two clubs will take seriously any racist, sectarian or offensive chanting before, during, or after the game."