Group sought for homophobic attack in Edinburgh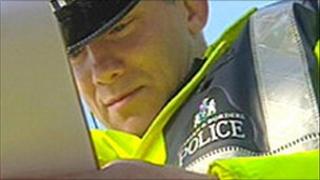 A gang who broke a man's jaw during a homophobic attack in Edinburgh is being sought by police.
A 20-year-old man had left the GHQ nightclub when he passed four men and one woman at 02:30 on Saturday in Broughton Street.
The group started speaking to him and made some offensive remarks before one of the men punched him in the face, knocking him to the ground.
Police are urging witnesses to the "unprovoked attack" to come forward.
'Robustly dealt with'
The first attacker is male, white, 18 to 19 years old, 5ft 7ins tall, of small build with light-coloured hair with the fringe swept to one side. He was wearing light-coloured trousers.
The second attacker is male, white, 18 to 19 years old, 5ft 11ins tall with black spiky hair. He was wearing a black zip-up top and white trousers and spoke with a local accent.
The third and fourth attackers are only described as being white and male.
The fifth attacker is female, white, 18 to 19 years old with bleached blonde shoulder-length hair and she spoke with a local accent.
A Lothian and Border Police spokesman said: "This was a totally unprovoked and homophobic assault that has left the victim with a serious injury to his jaw.
"We believe a number of patrons from the various venues in and around Broughton Street may have been in the area and witnessed this incident, and would urge anyone with information that can assist with our enquiries to contact police immediately.
"We would similarly urge the members of the group who did not become involved in the assault to come forward to officers and identify the culprit.
"Anyone found to be involved in hate crime will be robustly dealt with."