Rare snail found after 110 years in Fife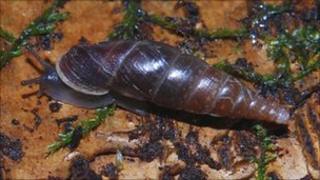 An isolated population of rare land snail last recorded in Fife 110 years ago has been rediscovered.
The plaited door snail (Cochlodina laminata) sighting was received by Fife Nature Records Centre, following a report from a member of the public.
The snail, which has a distinctive corkscrew shell, was last recorded in West Fife near Oakley in 1901.
The new discovery near Blairhall is thought to be the only known population in Fife.
The plaited door snail is found in woodlands and grazes on algae and lichen.
Fife Coast and Countryside Trust is urging nature spotters keen to see the snail for themselves to check tree trunks, although at only 15 to 18mm long and with a dark red-brown shell, it is well camouflaged.
'Very exciting'
Alexa Tweedle, Fife Coast and Countryside Trust information officer, said: "Within Fife there has only ever been one previous record and that was in 1901.
"It's probably the same population of snail as it is so close, the last sighting was in Oakley and this one is in Blairhall.
"To have a confirmed recording of a population in Fife for the first time in over 100 years is very exciting."
The snail can be recognised by its club shaped shell which spirals around 11 times.
The snail is so rare in Scotland that it has been placed on the Scottish Biodiversity list, a list of animals plants and habitats that are of principal importance to biodiversity in Scotland.