Edinburgh tram line repair works get under way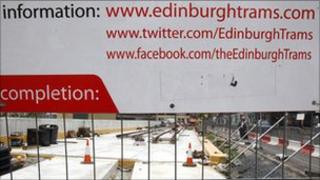 Edinburgh's Princes Street has shut to all traffic for 10 months of repairs on the city's controversial tram route.
The work, to fix crumbling tarmac around the tram lines, is due to be finished by July 2012, with a break over Christmas.
Buses, taxis and cyclists are being diverted along George Street, while cars and lorries have been diverted along Queen Street.
Edinburgh Council has said the capital is "very much open for business".
The tram lines were laid in 2009 in a rush before Christmas, but main trams contractor Bilfinger Berger has conceded mistakes were made.
Those will be put right before next summer at the company's expense.
Jenny Dawe, the leader of Edinburgh City Council, said: "We recognise the impact of putting the diversions in place.
"Disruption to visitors and shoppers on Princes Street will be kept to a minimum and we have liaised closely with local businesses to ensure the diversion goes as smoothly as possible for them."
The work has resumed after a new deal was signed by council leaders with Bilfinger Berger, ending speculation over the future of the project.
The council confirmed a deal was agreed after negotiations which lasted until the early hours of Thursday morning.
It also follows the Scottish government's announcement that Transport Scotland is to step in to help manage the scheme.
Ministers agreed to reinstate £72m of funding they had earlier withheld.
The trams are due for completion by summer 2014, at a cost of £776m.