Protest students occupy Edinburgh University hall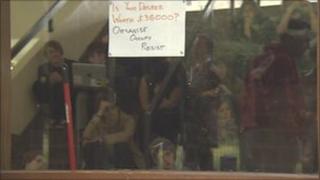 About 100 students are occupying a lecture theatre at Edinburgh University in protest at a decision to fix fees at the most expensive rate in the country.
It is one of two institutions in the UK set to charge applicants from England, Wales and Northern Ireland fees of £36,000 for a four-year course.
A small crowd outside has been refused access by security staff.
The university said freedom of speech was important but points of view had to be put across in a safe and lawful way.
Mike Shaw, an Edinburgh University student, said: "We will remain in occupation until our demands of Edinburgh University and Holyrood are met."
Amy Westwell, a Glasgow University student, said: "In Scotland, we take great pride in our universities, for their excellence and accessibility.
"The extent to which fees have been raised is disproportionate to the financial needs of universities, this move undermines the values of the Scottish education system."