Foodie Farm fined over worker's potato harvester death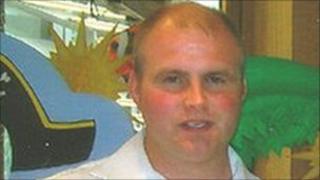 A farm operator has been fined £112,500 after a worker was crushed to death in a potato harvesting machine in Fife.
Keith Wannan died en-route to hospital after he was pulled from the machine, where he had been stuck for up to 30 minutes, at Foodie Farm near Cupar.
The 34-year-old, from Cupar, had been carrying out an annual maintenance check on 6 September 2009.
Farm operators GJ Orr admitted failings in its health and safety regime had contributed to the accident.
Fiscal depute Sally Clark told Cupar Sheriff Court the father-of-two was employed to carry out general farm duties, along with most of the repair and maintenance work on the farm.
He had been testing the harvester machinery when he became entangled within rollers, sustaining multiple injuries.
It is thought he had been trapped for up to 30 minutes when he was discovered by George Orr, one of the partners in the farm.
Miss Clark said Mr Wannan's head and a hand were visible, but that the rest of his body had been trapped below the rollers.
An air ambulance was called out, but Mr Wannan was pronounced dead during the flight to Ninewells Hospital in Dundee.
Miss Clark said the Health and Safety Executive had found that maintenance work should only have been carried out while power to the harvester was isolated, and that the work should not have been done by a lone worker.
The company's solicitor said Mr Wannan had worked at the farm for almost 14 years and was a "family friend".
"My clients would like to send their condolences to Mr Wannan's family for their horrific loss," she said.
"This was not a breach that lasted a long period of time, it was a one-off with horrific consequences."
Sheriff Charles Macnair said: "This was a breach which resulted in the very sad death of an experienced employee.
"It's not clear how it came to be that Mr Wannan was involved in this unfortunate accident.
"It may be that as a loyal employee he took a risk in order to help his employer by going further than was strictly necessary, but that's just speculation."
No-one from GJ Orr commented as they left court.