Edinburgh trams: New deal signed with Bilfinger Berger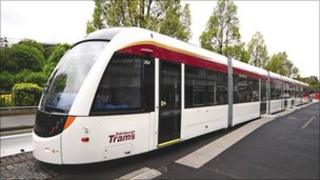 Edinburgh City Council has signed a new deal with its main trams contractor, ending speculation over the future of the project.
The council confirmed a deal was agreed and signed following negotiations with Bilfinger Berger which lasted until the early hours of Thursday morning.
It follows the Scottish government's announcement that Transport Scotland is to step in to help manage the scheme.
Ministers agreed to reinstate £72m of funding they had earlier withheld.
The trams are due for completion by summer 2014, at a cost of £776m.
Jenny Dawe, Edinburgh City Council leader, said: "This is an important milestone in restoring our vision for a clean, green and efficient transport system in Scotland's capital.
"It is essential for everyone who lives or works in Edinburgh that the project gets going now as soon as possible.
"I am pleased with the spirit of cooperation shown by all parties and grateful for the hard work that has gone into taking us forward."
New governance
Sue Bruce, Edinburgh City Council's chief executive, said: "An incredible amount of effort has gone into addressing all the issues that have made this such a challenging project.
"However, the real work begins now on getting the line finished and the trams running.
"In doing so, I'm very pleased to welcome Transport Scotland 's involvement which will see our staff and theirs working closely together as we look to enter a new phase in the project's history.
"As with any major construction project I'm sure we will have hurdles to overcome, but our new governance and operational arrangements are aimed at dealing with those as efficiently as possible."
An Edinburgh City Council spokesman said: "Negotiations have concluded between the council and the consortium.
"The final session, which started on Wednesday, finished on Thursday morning - during which time the legal agreements were finalised and signed."