St Andrews student sentenced for Israel flag racism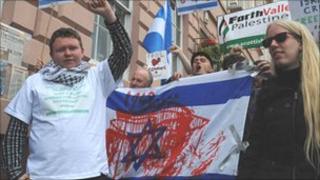 A student at St Andrews University who was found guilty of a racist breach of the peace after he insulted the Israeli flag has been given community service.
Paul Donnachie, 19, has been sentenced to 150 hours for putting his hands down his trousers before rubbing them on Jewish student Chanan Reitblat's flag.
Donnachie also accused Mr Reitblat of being a terrorist during the incident at the halls of residence in March.
Donnachie was also ordered to pay Mr Reitblat £300 in compensation.
The student was earlier expelled from St Andrews University.
Outside the court Donnachie stood with pro-Palestinian campaigners who had defaced Israeli flags with red paint.
Cupar Sheriff Court had earlier heard evidence from Mr Reitblat, a chemistry student on a one-term exchange from the Jewish Yeshiva University in New York, who said he felt "violated and devastated" by the incident.
Presiding Sheriff Charles Macnair said it was "perfectly legitimate" to have a view on Israel, and perfectly legitimate to carry out political protest, but Donnachie's behaviour had done nothing to help his point of view, and had only harmed it.
He said: "The part of your behaviour which I find most serious was that you described Mr Reitbalt as a terrorist.
"It is equivalent to saying all Muslims are terrorists, and that's wholly unacceptable."
Sentencing Donnachie, now living in Blackpool, he said: "You had far too much to drink, and went way beyond the way you would have behaved if you hadn't been drunk."
He said the incident was "too serious" to deal with by simply a fine, but said he had taken account of the devastating effect the incident had on Donnachie's academic career.
The court heard that Mr Reitblat, not an Israeli but an American citizen who had fled oppression in communist Lithuania as a child, had pinned the flag up after being given it by his brother who was in the Israeli Defence Force.
Donnachie claimed his behaviour, though "not dignified", had been a "legitimate, if misguided, form of political protest".
He insisted he had not meant to cause offence.
Samuel Colchester, 20, living in Andrew Melville Hall, St Andrews, and Donnachie had both denied acting in a racially aggravated manner in the incident at the the halls in Links Crescent.
Mr Colchester was found not guilty last month following claims he had urinated in Mr Reitblat's sink.