Peploe's Flowers and Fruit sells for £500k at auction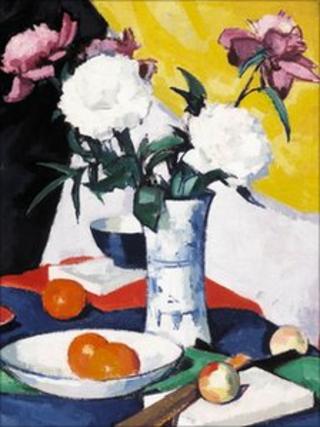 Samuel Peploe's Flowers and Fruit has sold for £512,800 at a sale of paintings by Scottish Colourists.
Total sales were £3m, which Bonhams' managing director in Scotland Miranda Grant described as "an amazing result".
Seven paintings made over £100,000, including The Artist's Drawing Room by Francis Cadell, which made £400,800.
"We had an exceptional selection of pictures and I am not surprised that bidding was so competitive," said head of pictures Chris Brickley.
"This was an excellent opportunity to acquire works of the highest quality by some of the biggest names in Scottish art."
The sale of The Artist's Drawing Room made it the second highest Cadell to be sold at auction while John Fergusson's At the Milliner's Paris fetched £222,000.
Peploe, Cadell, Fergusson and George Leslie Hunter were influenced by contemporary French painting as they formed a distinctive Scottish idiom during the 1920s and 1930s.