Authors in play to close Edinburgh Book Festival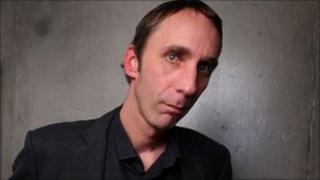 Novelists including Ian Rankin and Will Self have performed in a play to help close the Edinburgh Book Festival.
They were among 18 authors and actors who took part in a reading of Fleck, by Scottish writer Alasdair Gray.
Poet Liz Lochhead and writers Janice Galloway and A L Kennedy were also involved in performing the work, a modern version of Goethe's Faust.
This year's international book festival featured almost 800 participants from 40 countries.
Nick Barley, director of the Edinburgh International Book Festival, said the performed reading was an exciting part of the programme.
He said: "This is the most ambitious event we have ever staged at the book festival and we are delighted that it has been so well received by participants and audiences alike.
"This year's festival has seen a wonderful array of writers from around the world.
"Our authors and audiences have discussed and debated the Arab Spring, the London riots, China, India, the influence of social media and the futures of Europe, cities and even faith.
Surprise appearance
The festival has launched brand new work from Michael Ondaatje, Dava Sobel, Tom Devine, A L Kennedy, Heather Brooke and Tam Dalyell and welcomed 47 debut authors.
A performed reading of Fleck will be staged at the International Festival of Authors in Toronto, Canada, later this year featuring some of the same cast, including Ian Rankin.
Those taking part in the book festival this year included Nobel Laureate Gao Xingjian and Poet Laureate Carol Ann Duffy.
Former prime minister Gordon Brown made a surprise appearance when he joined his wife Sarah on stage to discuss her book Behind The Black Door, while Scotland's First Minister Alex Salmond appeared in conversation with novelist Iain M Banks.
Andrew Coulton, the festival's administrative director, said: "This year's programme was bigger than ever, with almost 2.5% more tickets available than last year - not including our free Unbound programme.
"Having sold nearly 73% of all seats, we are very proud that our festival continues to draw such large audiences in a time of continuing economic uncertainty.
"With around 190,000 visits during the festival, even Scotland's wettest August on record hasn't managed to dampen spirits in Charlotte Square Gardens."