Primal Scream to headline Edinburgh's Hogmanay concert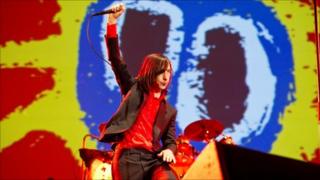 Scottish indie rock legends Primal Scream will headline this year's Hogmanay concert in Edinburgh, organisers have confirmed.
The band will perform their seminal 1991 album Screamadelica in its entirety for the last time to mark its 20th anniversary year.
This will be followed after the bells with a greatest hits set.
Tickets for Concert in the Gardens will go on sale to the public from 09:00 on Thursday.
Festival organisers will release the names of other artists taking part in the coming weeks, with full programme details to be announced in early November.
Screamadelica, produced by Andrew Weatherall, features classic tracks including Movin' On Up and Loaded.
Primal Scream have given a series of well-received festival performances this year, including a set at Glastonbury.
'Best year ever'
Looking forward to their first appearance at Edinburgh's Hogmanay celebrations, Primal Scream frontman Bobby Gillespie said: "It will be a brilliant end to the best year we have ever had."
Edinburgh's Hogmanay director, Pete Irvine, commented: "Primals were the major success story of this year's festivals and we're deeply chuffed to have the final 20th anniversary performance of Screamadelica, voted the most popular Scottish album of all time."
Tickets for Edinburgh's Hogmanay street party, which will feature headline artists, live music stages, giant screens and the midnight fireworks display, will be available from Thursday.
Organisers said revellers were advised to plan early for this year's festivities to avoid disappointment.
Last month, Glasgow City Council scrapped its traditional Hogmanay party in George Square after it decided it was no longer delivering value for money.
Instead, the focus will switch to family-friendly events aimed at boosting the day and nighttime economy.
The council said at the time that, with services under pressure, it was "imperative that we get the best bang for every Glasgow buck".