Edinburgh trams project to be managed by new firm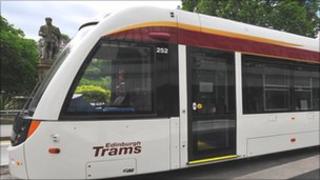 The management of Edinburgh's trams project has been passed to a new company.
International consultants Turner and Townsend have been brought in by the city council to help it complete the tram line into the city centre.
Staff at TIE, which had been running the project, have been told they face further redundancies.
A new report is expected to reveal how the council will find the extra £200m it needs to pay for the line.
Neil McCowan, Director at Turner & Townsend in Edinburgh, said: "Turner & Townsend is delighted to have been asked to support the council with this project.
"We'll bring an unrivalled level of experience and skill to the table, which we'll use to ensure it is delivered in the most cost efficient manner possible.
"Turner & Townsend has already worked on successful light rail schemes in Croydon, Dublin and Nottingham.
Completing the line
"Each was challenging in its own way, but each time we adapted our approach to ensure best value."
Earlier this year it was revealed that scrapping the Edinburgh tram project would bring the total cost of the project to about £750m.
It was also estimated that completing the line from Edinburgh Airport to Haymarket, west of the city centre, would take the cost to £700m.
In June an official report said building the line as far as St Andrew Square in the city centre would cost £770m.
The original cost of the tram project was £545m.
That had been the figure for running the line through the city centre and on to Newhaven in the north of the city.
A contractual dispute has pushed the project over budget and behind schedule.