St Andrews University terrorism expert dies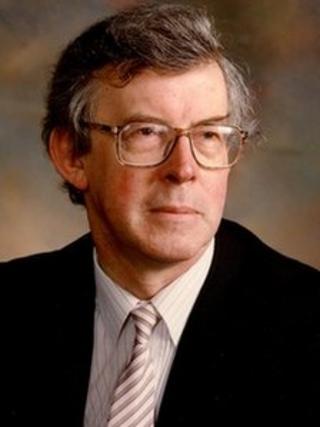 One of the world's leading authorities on the study of terrorism and political violence, Prof Paul Wilkinson, has died aged 74.
He was the first professor of international relations at St. Andrews University, and a regular media commentator.
Prof Wilkinson also advised the UK government on its preparedness for a terrorist attack.
He came to the university of St Andrews in 1989.
During Prof Wilkinson's time at St Andrews, the School of International Relations experienced a huge expansion in staff and student numbers.
He was also co-founder of the university's Centre for the Study of Terrorism and Political Violence in 1994.
The centre has since become one of the most respected and well known in its field.
Born on 9 May 1937 in Harrow, Middlesex, he gained a BA in modern history and politics at University College, Swansea, followed by an MA.
Media expert
After six years' service as a regular Royal Air Force officer, Prof Wilkinson started his academic career in 1966 at the University of Wales, Cardiff, as assistant lecturer in politics.
He became senior lecturer and then reader in politics at Cardiff before being appointed to the first chair in international relations at the University of Aberdeen in 1979.
His first book on terrorism, Political Terrorism, was published in 1974.
Throughout his career, Prof Wilkinson was a strong opponent of terrorism of all kinds.
In his publications and contributions to the media he consistently argued that the democratic response to both domestic and international terrorism should always be guided by the rule of law.
Norway atrocities
He publicly opposed attempts to increase the period permitted to detain terrorism suspects without trial in the UK and condemned the Guantanamo project and other measures by the administration of President George W. Bush.
Speaking in 2006 he said, "I have discovered that, contrary to so much received opinion, it is possible for democracies to respond effectively to contemporary terrorism without undermining basic civil liberties and the rule of law, and that the protection of human rights, far from being an obstacle to effective counter-terrorism is a vital part of an effective long-term democratic response."
He retired from his position as chairman of the advisory board for the Centre for the Study of Terrorism and Political Violence in August 2007 and was appointed Emeritus Professor of International Relations.
A widely quoted expert in the media in the aftermath of the September 11 attacks in the US in 2001, he was still providing expert comment to the media following the Norway atrocities last month.