National Museum of Scotland hits 100,000th visitor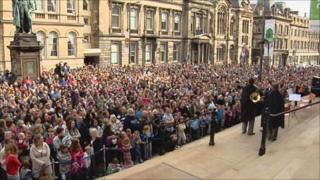 The newly redeveloped National Museum of Scotland has attracted more than 100,000 visitors in the first six days since it reopened to the public.
Museum officials had predicted they might achieve the 100,000 mark within two weeks of opening.
Their target was broken in less than half the time. The first week's tally is expected to reach 120,000 people.
About 2,000 people gathered outside before it opened last Friday forcing Chambers Street to close to traffic.
Gordon Rintoul, director of the National Museums Scotland, said: "The number of visitors we have had so far is absolutely fantastic.
"We were always confident that there would be a high level of interest in our transformed museum, but to get over 100,000 people in less than a week really has surpassed all of our expectations."
The museum reopened after a major three-year redevelopment.
Sixteen new galleries take visitors on a journey through the wonders of nature, the cultures of the world and through to science and discovery.
More than 8,000 objects were on display in the new area, 80% of them for the first time in generations.
The three-year programme has seen the original interior restored and storage areas turned into public space, making it one of the UK's largest museums.
It means the whole museum has 20,000 objects across 36 galleries.
Exhibits range from a life-sized skeleton cast of a Tyrannosaurus Rex to specimens collected by Charles Darwin and 3,000-year-old mummies.
The project has been jointly funded by the Heritage Lottery Fund, the Scottish government and private donations.
Working with Scottish architect Gareth Hoskins and exhibition designer Ralph Appelbaum, National Museums Scotland has also restored Victorian architecture, created new galleries, a major gallery to host international exhibitions, a three-storey learning centre and a new street-level stone-vaulted entrance hall.
Glass lifts carry visitors from the entrance hall to the Grand Gallery, housing the UK's single largest museum installation, the Window on the World: a four-storey, 18-metre (59ft) high display of more than 800 objects.