Chinese delegates to make final panda cage inspection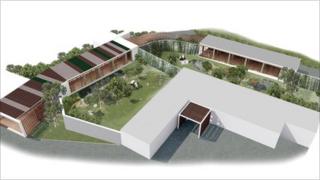 The final inspection by Chinese delegates of the new facilities being created for two giant pandas at Edinburgh Zoo has been set for October.
Officials said they did not have a date for the arrival of Tian Tian and Yuang Guang but it would depend on the enclosure passing the inspection.
It is expected the pandas will arrive by the end of the year, as announced by Premier Wen on his recent UK visit.
About £250,000 is being spent creating a home for the pair.
It will have pools, caves, climbing structures and even its own nursery.
The Chinese Wildlife Conservation Association (CWCA) will be making the inspection in October.
The CWCA seal of approval is a vital step in securing the dates for the pandas' arrival, which will be decided by the Chinese government.
Both pandas have successfully bred before and it is hoped they could produce further offspring.
It is expected the pandas will generate huge public interest and the new enclosure has been designed to accommodate 600 spectators per hour.
Each panda will have its own space because they are solitary animals in the wild and only come together to breed.
Hugh Roberts, chief executive of Edinburgh Zoo said: "We had a very successful and productive series of meetings, sharing ideas and allowing the delegation to review our progress in advance of the Chinese Wildlife Conservation Association (CWCA) formal approval.
"Over four days, we looked at all aspects of the project including the research and education strategies and veterinary skill sets, as well as our bamboo strategy.
"The team also engaged in very valuable advanced forward planning and we have agreed a few alterations to the enclosures with future cubs in mind, ultimately baby-proofing measures.
"We have also revised the layout of the internal working areas, the enclosures designed for health checks, taking their advice and creating two, as opposed to three, for maximum space."
He added: "They [the delegates] were happy with our progress so far and, with their input, our facilities will be delivered to the highest possible specification.
"We are confident that following the October visit by the CWCA, we will receive the date for Tian Tian and Yang Guang's arrival."