Violent crime rises by 35% in Fife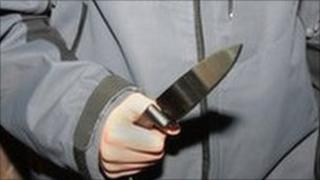 Violent crime has risen in Fife in the past year by more than a third, according to the region's police force.
Fife Constabulary's annual report showed there were 463 crimes of violence compared to 341 in the previous 12 months.
Overall crime figures were down by 11%, with anti-social behaviour down by almost a quarter (23%).
Fife Constabulary also seized a record £3.6m of illegal drugs by disrupting organised crime gangs.
The new statistics showed recorded crime was now 46% lower than it was six years ago in Fife, with recorded crime at its lowest levels since these records began 15 years ago.
Chief Constable Norma Graham, of Fife Constabulary, said there were nearly 3,000 fewer incidents of anti-social behaviour recorded in 2010-2011 - the same period she delivered a new community-based policing style.
In 2010 the force rolled out community engagement across the whole of Fife, following a successful pilot in Levenmouth.
The aim was to give communities the opportunity to take part in setting policing priorities in their own area.
Chief Constable Graham said: "Our vision of taking police closer to the community continues to drive policing operations in Fife with meaningful community engagement at the heart of everything we do.
"The 11% reduction in recorded crime means that there were 2,277 fewer victims of crime in Fife in the past year.
"Across Fife many communities have raised anti-social behaviour as their main concern so I am particularly pleased a decrease of 23% in the number of anti-social behaviour offences recorded.
"Community policing is the future for Scottish policing. By working closely with our community, the force has transformed how we deliver policing in Fife.
"Local communities are now involved directly in shaping the policing priorities for their area and this has led to a renewed connection between the public and police."