Little Egrets in 42-year record in Fife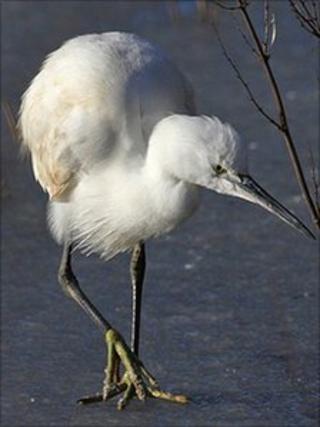 The largest flock of Little Egrets seen in Scotland for 42 years has been recorded in Fife.
Four of the birds have landed at The Eden Estuary Local Nature Reserve in north east Fife, managed by Fife Coast and Countryside Trust.
It is the first location to document the bird since their last recorded sighting in Mull in October 1969.
The small white herons are very rarely seen in Scotland and hold an Amber status in the UK.
Though Little Egrets do not yet breed in Scotland, there are 140 to 160 breeding pairs in southern and eastern coastal regions of the UK.
Ranald Strachan, the local countryside ranger, was among those who recorded the four Little Egrets on the reserve on Sunday. The birds are still on the reserve.
He said: "This is a very unusual and exciting record.
"It may hint at a future where Little Egrets become a regular visitor to the Eden Estuary. Who knows they may even take up breeding sites here.
"This is another chapter in the story of the colonisation of the UK by this species, and it is interesting to speculate whether climate change or environmental change has played a part in this northerly spread.
"It's too early to say whether the Little Egret will breed in Scotland and Fife, however, it's great to see these birds out on the reserve."