Rail services from Waverley return to normal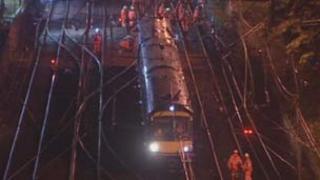 Trains in and out of Edinburgh's Waverley station, disrupted by a derailment, have returned to normal.
An empty train came off the tracks as it was passing through the Princes Street Gardens cutting on Wednesday night.
The carriages were removed overnight and the tracks reopened following an inspection.
The work was carried out after the majority of the services on Thursday's emergency timetable had run.
Network Rail said it had re-opened all four rail lines in Princes Street Gardens at about 04:30.
Disruption had been expected to continue until Saturday.
Rail investigation
A ScotRail spokeswoman said: "We are pleased to be able to fully re-open all four affected rail lines a day earlier than originally advised."
Nick King, spokesman for Network Rail, told the BBC's Good Morning Scotland programme engineers had managed to get onto the line at about 21:00 on Thursday.
"We switched off the electricity to the power lines above the train and we were able to bring in a special vehicle which we used to jack up the bogeys that came off the rails," he said.
He added that engineers were then able to put the train back onto the rails allowing it to drive away.
"Because we got the works done quicker than expected we were able to bring forward the track and points repairs that were required," he said.
The Rail Accident Investigation Branch has been examining the site of the derailment.
The empty train was being moved from Cowdenbeath to Edinburgh Waverley station when it came off the tracks.
Neither the driver nor conductor were injured.
Network Rail apologised for any inconvenience caused to passengers and said the investigation into the cause of the derailment was ongoing.
Following the derailment, services to the west and north of Edinburgh had been terminating and starting at Haymarket Station instead.
Buses also operated between Waverley and Haymarket until end of service on Thursday night.