Beamer Rock lighthouse to make way for new Forth bridge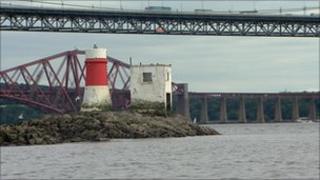 A lighthouse which has protected mariners for 185 years is to be removed to make way for the new Forth crossing.
The Beamer Rock lighthouse is to be taken apart as part of the £1.6bn bridge, which will use the rock as a support.
The lighthouse, which stands close to Port Edgar, guards the entrance to Rosyth dockyard and the inner Forth.
Transport Scotland has said that additional navigation lighting will be mounted on the replacement crossing.
A spokesman said: "The design of the Forth replacement crossing takes advantage of Beamer Rock, using it as a foundation for one of the new bridge's three towers.
"This requires the dismantling, removal and storage of the small lighthouse there, which is scheduled to take place later this year."
The replacement crossing plan recommended that the lighthouse should be stored after being dismantled, to allow for the possibility of it being re-erected at a suitable site later.
Calls have been made for the structure of the lighthouse to find a permanent home in the area.
Commodore Terry Kirchin, of the Port Edgar Yacht Club, said: "The Beamer lighthouse is quite modest but it's very important in navigation as the rock is a significant hazard.
"The right place for it to be should be on a plinth at the Port Edgar Marina, explaining the purpose it has had for all of these years."
Edinburgh's Lord Provost, George Grub, has also backed the idea of preserving the lighthouse close to the rock where it stood.
Mr Grub said: "It's good that Transport Scotland are going to relocate the lighthouse because it's been an important feature of life in South Queensferry for many, many generations."
The principal contract for building the new Forth crossing was awarded in April.
The bridge should be completed by 2016.
It is to be paid for by the Scottish government's capital budget and was brought forward in the wake of concerns about the condition of the existing crossing, now more than 40 years old.