Fire-damaged swimming pool building to be demolished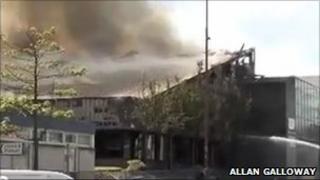 Part of a leisure centre which was engulfed by fire is to be demolished, its management have confirmed.
The section of building which housed Whitburn swimming pool has been destroyed but there are hopes the fitness centre next to it can be saved.
The Xcite centre on West Main Street went up in flames at about 1400 BST on Saturday with 49 staff and patrons, including swimmers, inside.
They were all safely escorted from the West Lothian Leisure facility.
Robin Strang, general manager of West Lothian Leisure, said the loss of the pool was "a blow" to the local community, particularly during the school holidays.
He commended staff for their safe evacuation of the pool.
Mr Strang added: "At this point we are hopeful that the fitness centre can be saved. However, at this stage, we expect that it will be a day or two before a full assessment can confirm the action that we need to take.
"We would like to thank the emergency services for their efforts and for bringing the fire under control so quickly."
Although the cause of the fire has not yet been confirmed, it is believed it may have started due to an electrical fault.
West Lothian Leisure is advising members of Xcite in Whitburn that they can use other venues. A list is available on its website.