Man guilty of Dolphin Inn landlord Steven Curran murder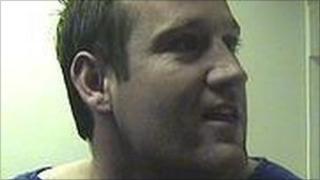 A 24-year-old man has been convicted of murdering a pub landlord in East Lothian last year.
A jury at the High Court in Edinburgh found Lee McNamara guilty of killing Steven Curran, 47, who ran the Dolphin Inn at Whitecraig.
The father-of-two was found dead at the back of the pub at about 0200 BST on Thursday 21 October.
McNamara, who will be sentenced later, had admitted culpable homicide.
The attack was captured on CCTV.
The court heard that he had attacked the publican in the car park of the Dolphin Inn, punching and kicking him before stealing his car and driving over his body, killing Mr Curran as he lay on the ground.
McNamara then crashed the car on the A1, and fled, only to return later to the scene of the accident.
By that time, police officers had discovered Mr Curran's body in the car park.
Det Insp John Peaston, from Dalkeith CID, said: "This was a senseless and brutal attack on an innocent man, which was motivated by no more than petty malice on the part of Lee McNamara.
"His actions have had a devastating impact on Mr Curran's family, and I would like to pay tribute to them for their courage during what has been a harrowing ordeal."
In a statement released on behalf of Mr Curran's family, his wife Jill said: "I made a decision to watch the CCTV footage of the attack on my husband in court, because I had to know exactly what happened to him on the night he died.
"What I saw was a sickening and cowardly attack on an innocent man, and this will stay with me for the rest of my life.
"There are no words that can explain the devastating impact that my husband's death has had on our family, and in particular our two daughters.
"They both meant the world to Steve, and he worked so hard to give them a good life.
"As a family we loved going on holiday, and I have so many fantastic memories of the good times we all spent together."
She added: "To me, Steve was always a larger-than-life character.
"He was well-liked, and he was always the centre of attention wherever he went.
"Most of all though, he was a loving husband and a proud father, as well as a much loved son and brother.
"His spirit lives on in our two beautiful daughters, and he will be sorely missed by all of us."
District Procurator Fiscal for Edinburgh and Haddington, Stephen McGowan, said: "This was a despicable act of violence against an innocent man as he left work.
"Lee McNamara lay in wait for Mr Curran in the dark then accosted him as he made his way to his car outside his pub that he owned.
"He claimed he did not realise that Mr Curran was still on the ground when he reversed over him with his own car, but the jury have clearly rejected this claim.
"I hope that today's verdict will bring some closure for Mr Curran's family, who have had to deal with the effects of this tragic event."