Panmure House restoration gets the go-ahead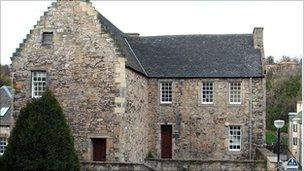 The restoration of Panmure House, the historic home of Adam Smith in Edinburgh's Canongate, has been given the go-ahead.
The decision has been welcomed by the building's owner, Edinburgh Business School.
The school, which is part of Heriot-Watt University, bought Panmure House from Edinburgh City Council in 2008.
The university plans to invest in its restoration and development as a centre for economics teaching and research.
The architect's designs for the £3m project were subject to a long negotiation with the city council and Historic Scotland, which culminated in a public inquiry in March.
The green light means that Edinburgh Business School can now start work on its plans for the house.
The proposals include public access and the recreation of the link to its illustrious past, when Adam Smith would regularly meet to debate with contemporaries, rivals and admirers such as David Hume, Adam Ferguson and James Hutton, during the late 18th Century.
Edinburgh Business School is co-ordinating a global fund-raising scheme to support the development.
Director of the school Professor Keith Lumsden said: "Panmure House is the home of modern economics, and when it came up for sale by the council I saw it as a once in a lifetime opportunity to preserve and restore a key part of Scotland's heritage.
"I am delighted that we can now realise our vision for this historic building."
Panmure House is situated at Lochend Close, just a few steps from the Royal Mile and close to the Canongate Kirk, where Adam Smith is buried.
Related Internet Links
The BBC is not responsible for the content of external sites.