Antarctic experts meet for conference in Edinburgh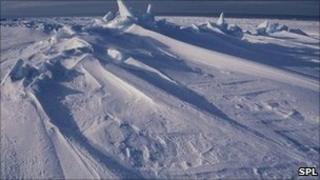 More than 500 experts from around the world are meeting in Edinburgh to present the latest scientific research from the Polar regions.
It is the first time in more than 20 years that the Scientific Committee on Antarctic Research (SCAR) has held its conference in the UK.
Organisers chose Edinburgh as they view it as the "birthplace of geology".
Delegates will examine the role the icy continent can play in understanding the world.
They will look at what life existed in Antarctica millions of years ago and ask what clues conditions there now could give experts about possible life on Mars.
The scientists will also discuss what lies beneath the super-continent's vast 3km thick ice sheet.
The international symposium, which is taking place 100 years after Captain Scott's famous Antarctic expedition, is organised and hosted by University of Edinburgh, the Scientific Committee on Antarctic Research, British Antarctic Survey and British Geological Survey.
A series of polar-themed events aimed at families will also take place across the city to engage and inspire the wider public about the relevance of the Polar regions.
Film screenings are being held at Edinburgh Filmhouse and Polar Open Days will take place at Our Dynamic Earth.