Chinese delegates to view Edinburgh Zoo panda enclosure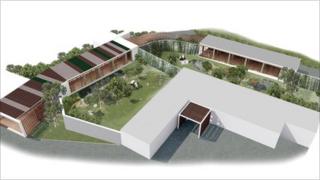 Chinese delegates are to visit Edinburgh Zoo for three days to check out the facilities ahead of the arrival of two pandas to the capital.
Experts from the Wolong Panda Breeding Centre in Sichuan Province will be at the zoo from Tuesday and Thursday.
They will be looking at the progress of the enclosure, feeding arrangements and the research aspects of the project.
The Chinese Wildlife Conservation Association will also visit in the coming weeks.
Two pandas, Tian Tian and Yuang Guang, are due to arrive from China later this year.
Hugh Roberts, chief executive of the Royal Zoological Society of Scotland, which runs Edinburgh Zoo, said: "This visit is a significant milestone in the giant panda project, and an excellent opportunity to exchange information and ideas with the team who are currently responsible for Tian Tian and Yang Guang.
"We have been working hard on our plans, for everything from housing the giant pandas to feeding them, and their input will be invaluable in making sure we are on the right path.
"This is an exciting time and we are looking forward to giving our Chinese partners a warm Scottish welcome and a flavour of Scottish culture."
About £250,000 is being spent creating a home for the pair. It will have pools, caves, climbing structures and even its own nursery.
Both pandas have successfully bred before and it is hoped they could produce further offspring.
It is expected the pandas will generate huge public interest and the new enclosure has been designed to accommodate 600 spectators per hour.
Each panda will have its own space because they are solitary animals in the wild and only come together to breed.