Lost Byron memorial found in church sale returns to UK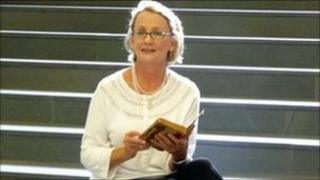 A book picked up at a church bring and buy sale in America has been identified as a lost memorial to Lord Byron.
Marilyn Solana, who bought the book for $35 (£22) in Savannah, Georgia, in 2008, has now returned it to the UK.
After online research, she contacted experts at the National Library of Scotland.
A curator realised it was the memorial book from Byron's family vault in Nottinghamshire, where he was buried after his death in Greece in 1824.
The book records the personal tributes and several poetic laments left by more than 800 people, many of them famous figures of the day, who travelled to the poet's final resting place.
'Remarkable find'
The visitors' book was placed in the vault at St Mary Magdalene's church in Hucknall, outside Nottingham, in 1825. By 1834, it was full.
David McClay, the library curator who uncovered the book's identity, said: "What happened next is unclear. One report from 1849 says the parish clerk gave it to a friend.
"Another from 1890 suggests the book was in the United States, having come into the possession of a family who moved there.
"This is a remarkable find which offers a fascinating insight into Byron's posthumous reputation. I'm sure there will be international interest in what has come to light."
Working from transcripts and without having seen the original text, he recognised the names of important figures who had left tributes and began to realise what it might be.
Mr McClay said this was confirmed when he attended a conference in the US and was able to inspect the original book.
The National Library of Scotland's John Murray Archive holds the world's most extensive collection of Byron works.
Mrs Solana has travelled to Edinburgh to donate the book to the library.
"I'm thrilled to be able to bring this wonderful little book to the National Library of Scotland, where it can be treasured and studied and cared for professionally," she said.
The book, which was dirty and missing its cover, generated little interest among bargain hunters at the St John's Episcopal Church sale and was unsold at the end of the day.
Mrs Solana, a retired speech pathologist who had been helping out at the sale, had spotted the book earlier and decided to buy it.
Martyn Wade, national librarian and chief executive of the National Library of Scotland, said: "We are all extremely grateful to Marilyn Solana for generously donating the book to the National Library.
"It has obviously been well-handled over the years but is generally in a sound condition. We will need to do conservation work on it but once that is done, people will be able to see it for another couple of hundred years."
There are also plans to create digital images of the book and put them online.
A digital copy will also be given to Mrs Solana and St Mary Magdalene's church in Hucknall Torkard.