MTV's Geordie Shore 'prompts rowdy Scots on trains'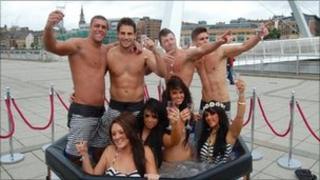 Rowdy revellers heading to Newcastle from Scotland for stag and hen parties have been causing trouble on trains, according to British Transport Police.
Officers issued a warning to party goers after complaints from passengers on the East Coast Main Line.
Police said they believed the popularity of reality TV show Geordie Shore had led to an influx in groups going to Newcastle for the night life.
Officers have been put on services to reassure passengers and staff.
Sgt Stephanie Reynolds, from British Transport Police, said: "Passengers have reported problems from large groups travelling on the trains for their anti-social behaviour, often swearing, playing loud music and shouting - disturbing other passengers from their journey.
"We have had officers on these services and at stations warning revellers of their behaviour which has seen a reduction of incidents.
"However, we are not complacent and will continue have officers onboard to reduce this issue."
The force said that officers had noticed an increase in revellers heading to Newcastle following the success of MTV reality show Geordie Shore.
The show, a British version of the hit US series Jersey Shore, follows the antics of eight sex-obsessed friends as they drink, vomit, fight and strip off.
Sgt Reynolds added: "We aren't out to spoil your party. Newcastle is a beautiful city full of culture and fantastic night life. We want everyone to enjoy themselves, but would warn visitors not to spoil the party for anyone else.
"Anti-social behaviour and over indulging in alcohol will not be tolerated on the rail network and we will continue to put officers on services to reassure passengers and staff."