Lothian police sergeant guilty of raping two girls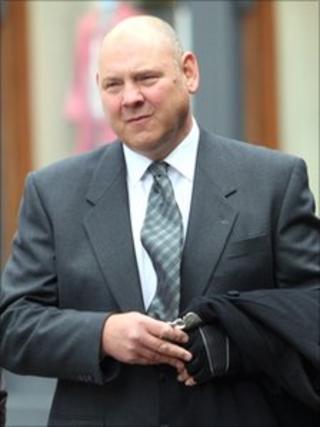 A police sergeant has been found guilty of raping two young girls 36 years ago when he was babysitting them.
Paul Greig of Armadale, 51, denied raping the sisters at a house in West Lothian between 1974 and 1975.
The Lothian and Borders officer had also denied indecent behaviour with the girls over the same period.
A jury at the High Court in Edinburgh returned a majority verdict on two charges of rape and two of indecent practices against the girls.
Greig will be sentenced on 10 August.
One of his victims was aged between eight and nine and the other between six and seven at the time.
Victims 'terrified'
Giving evidence during a week-long trial, the women, now in their 40s, described how Greig threatened them that if they told anyone what was happening their dad would go to jail and they would be sent to a home.
Despite being bathed and put in their pyjamas by their mother before she left, the women said Greig would give them another bath and then sexually abuse and rape them.
The women said they had been terrified.
The offences were not reported to the police until January of last year.
In his closing address to the jury, Advocate Depute Andrew Stewart QC said a delay in reporting such matters did not mean the women were lying.
Research showed that many victims of sexual assault did not do so either because of threats or because they felt they would not be believed.
Daughter in tears
Defence advocate, Tommy Ross, said that because of the 36-year delay in the allegations being made to the police there was no medical or scientific evidence and the account given to the police was "total invention".
The girls' mother in her evidence, he said, had found the girls in bed when she returned home and nothing was said. Neither had neighbours heard any screaming.
Greig, a married man with a grown-up son and daughter, joined the police force in 1993 and has been suspended from duty since January, 2010.
In his evidence, Greig said he could only recollect babysitting the girls on two occasions. The allegations against him, he said, were absolutely untrue.
When the jury's verdict was announced, his wife and daughter burst into tears and when judge, Lord Kinclaven remanded Greig in custody for reports.
When it was ordered he be placed on the Sex Offenders Register, his daughter cried out: "Dad, Dad, Dad. Oh my God".