Torness reactor back on after jellyfish shutdown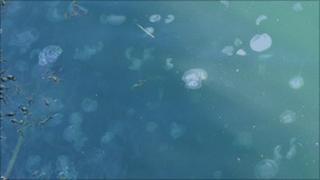 Torness nuclear power station has switched one of its reactors back on after jellyfish forced the plant to shut down.
Both reactors were closed on Tuesday after large numbers of jellyfish were found in the sea entering the station.
Fishermen on three trawlers helped clear the jellyfish from around the station, near Dunbar in East Lothian.
The East Lothian plant's operator, EDF Energy, said the shutdown was a precautionary measure.
It has filters which are designed to prevent seaweed and marine animals entering the cooling system.
If these screens become clogged, the reactors are shut down to comply with safety procedures.
It is not known why there were so many jellyfish in the area.