Edinburgh trams: Alliance calls for completion of route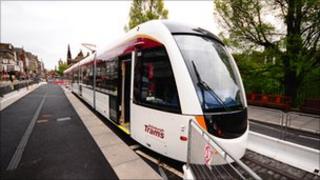 Transport campaigners and business leaders have urged councillors in Edinburgh to back the completion of the city's tram line to St Andrew Square.
Transform Scotland and Edinburgh Chamber of Commerce have joined forces to lobby councillors.
The move comes ahead of a full council meeting on Thursday to decide the future of the scheme.
Last week a report urged councillors to complete the project and warned the cost of scrapping it would be £750m.
The report by council officials said it would cost up to £770m to build the line from Edinburgh Airport to St Andrew Square.
A third option, building the line from Haymarket to the airport, would cost £700m, the report said.
The city's Chamber of Commerce and Transform Scotland said the tram line would act as "a springboard for a wider light rail network for the city".
Paul Tetlaw from Transform Scotland said: "Having now read the report from the Edinburgh's director of city development, our conclusion is that the councillors should commit to taking the tram line to St Andrew Square.
"The reasons for building the tram system remain as strong as ever. The need to meet climate change targets, rising oil prices, improving air quality and reducing congestion are all key drivers.
"These very same reasons have led cities around the world towards building tram systems as a key element of their public transport infrastructure."
The transport and business alliance said that one of the key benefits of a St Andrew Square terminus was the fact that the contractor would fully fund the reinstatement of Princes Street.
The group was concerned that terminating the line at Haymarket would mean it failed to reach Princes Street - which it described as "the heart of the city" and a "key retail destination" - and that the council might then have to meet the reinstatement costs.
Mr Telaw added: "Political opinions have been divided.
"However, we are where we are, and those same politicians must now find a way forward.
"If they fail then the consequences for Edinburgh's transport infrastructure will be dire indeed."