Edinburgh tram cost 'a small glitch', council boss says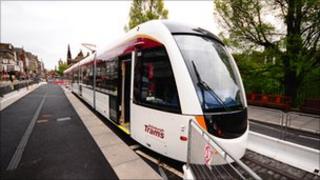 The leader of Edinburgh City Council has insisted that spiralling costs for the capital's troubled trams project have not been exceptional.
It comes after figures showed it would cost £750m to cancel the project or £770m to run the line from Edinburgh Airport to St Andrew Square, against an original budget of £545m.
Officials have recommended completing the St Andrews Square option.
Council leader Jenny Dawe said the rising costs were "a small glitch".
The original budget of £545m had been the figure for running the line through the city centre and on to Newhaven in the north of the city.
A contractual dispute between tram company Tie and contractors Bilfinger Berger pushed the project over budget and behind schedule.
The council will take a decision on the future of the project next week.
Ms Dawe told BBC Scotland's Politics Show: "We'll get through this, we'll get a tram and in the run of things I think that this will just be a small glitch on the way there.
"Clearly nobody wants to see the city having reputational damage done to it, but I'm hopeful that we will get a way ahead.
"We now have a much, much better relationship with the consortium and that has made a great difference to our capacity to take a good decision on Thursday."
Ms Dawe set the tram overspend against rising costs for the Luas tram project in Dublin, the Skye Bridge and the Scottish Parliament building.
She said the contract as it was set up was not fit for purpose, but that the council would not be seeking any more money from the Scottish government above the £500m already allocated.
The council leader said discussions would take place on borrowing funds to meet the shortfall of any eventual cost, but pledged that consequences for council revenues would not impact on the city's essential services.
The SNP branded Ms Dawe's comments "out of touch".
Edinburgh Central MSP Marco Biagi said: "This is an insult to the people of Edinburgh who have put up with years of disruption and to the taxpayers Ms Dawe expects to foot the bill. Once again Jenny Dawe has completely missed the point."
In a report last week council officials recommended councillors should vote to complete the line to St Andrew Square instead of scrapping the project.
It also outlined an option to take the line only as far as Haymarket, at a cost of £700m.
A full council meeting will be held on Thursday to decide the future of the scheme.
Officials have indicated that the line to St Andrew Square could be finished by 2013, and operational by 2014.
Calls for a public inquiry into the handling of the trams project have been backed by First Minister Alex Salmond.